Over the next 37 years, IWC would go on to sell only 425 more of the Portuguese, most of which would contain the Cal 98.  As remarkable as it now seems, IWC had unwittingly planted the seeds of a quiet phenomenon unmatched by any other company before or since.

Out of hundreds of thousands of watches, a mere 675 Portugueses scattered over 43-years would go on to become an icon within the industry that produced them.

By that fateful Saturday morning, sales of the Portuguese had probably reached no more than

250 watches in the six years since its inception. While total movement production would have exceeded 100,000 calibers during those years from 1939 to 1944, none of those would even include the Cal 74 used in the first 303 watches. Not only had Cal 74 production ceased in 1931, it would be 1952 before the final and 304th Cal 74 Portuguese was sold.

In the ensuing years, IWC would of course go on to greater technical achievement, producing a respectable collection of movements and models, including the Mark XI, the Ingenieur, the Porsche Compass and Ocean 2000, and of course Kurt Klaus' gift to the re-birth of the mechanical watch - the perpetual Da Vinci chronograph.

None of these however, in and of themselves, would take on the mythical proportions of the Portuguese, and none would ever be as rare. By the time IWC's 125th Anniversary would roll around in 1993, IWC would exhume the Portuguese  in celebration of the often tenuous history of this remarkable old manufactory.

As Otto Heller made his way to the offices at IWC on that fateful Saturday of April 1, 1944, he had no notion that the only Swiss watch company ever founded by an American was about to be bombed by American forces. But as Heller, then IWC's financial director, walked across his office that morning to answer a phone he refused to have sitting on his desk, an American bomb exploded outside his window, raining phosphorus down on the very spot he had sat only moments earlier  - or so one version of the story goes.

Though it hardly seemed possible at the time, 2003 marked the 10th Anniversary of the Jubilee Portuguese Uhr. Though its 1993 release had seemed only a short time prior, it was all but sold out by the time Internet watch communities started developing and once discovered, it quickly became one of the "Holy Grail" watches for many collectors. Ten years later its desirability of course had only grown.

If one thinks about all of the famous Swiss watches that have defined their respective manufacturers during the 20th Century, few other models will come to mind that enjoyed such scant production as the Portuguese.  Be it Patek's Calatrava, JLC's Reverso, or even the original Panerais which were one of many products produced by the Italian instruments company, only the Portuguese has met us here today still pure of form with its DNA intact.

Feliz Aniversário Do Jubilee!

Feliz Aniversário Do Jubilee!

Indeed, as Heller's life was saved that day by a ringing telephone, he also had no notion that he was witness to the birth of an obscure watch that would someday take on the legendary stature capable of defining this venerable old company. Though he did not know it then, these were the years of the Portuguese.

With such insignificant sales,  Heller's primary interest in this oversized oddity of a wristwatch would have most likely been liquidating inventory and collecting payments due from those two now-famous Portuguese watch dealers, Rodrigues and Teixeira.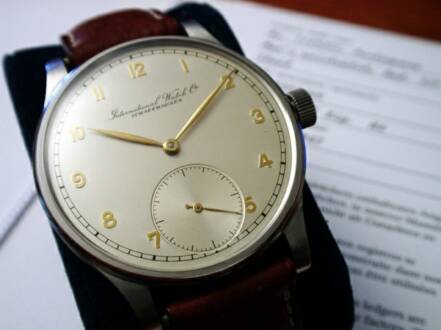 In an accounting by Kurt Klaus, the decision to release a new edition of the Portuguese was made around 1990 when a visitor to the atelier showed up wearing a vintage original.  "As we gathered round him, we declared, 'this is such a uniquely beautiful watch; we should make it again'."  and thus was made the decision that would forever tie the company to its own past, leading eventually to a successful new family of watches and manufactured movements. Be it purposeful continuity or just plain luck, the Portuguese Jubilee represented a revival,  introducing its obscure predecessor to a new generation of collectors.

Boxes, Books, and Glass Bottom Watches

The release of the Jubilee in 1993 was not simply a copy, but a delayed continuation of the previous Cal 982 models. To assure its authenticity, IWC utilized original tooling wherever possible and maintained the integrity of all original  design characteristics.

Offered individually in three metals and in a limited number of boxed sets, the Jubilee was instantly sought after. There were 1000 produced in stainless steel, 500 in rose gold, and 250 in platinum.

Sapphire glass backs gave the first factory-sanctioned view of the Cal 982 pocketwatch movement, transformed by its special Jubilee engraving into the Cal 9828.

At 42mm in diameter, this was one of the largest models introduced in 1993 and, along with Audemars' Royal Oak OffShore, is credited with ushering in the age of the oversized wristwatch.  It's 46mm cousin, the Portofino 5251, was larger but remained obscure to all but the hardest core devotees of the brand.

Early Internet discussions actually focused on whether or not the Jubilee was wearable and even some who owned it felt it better collected than worn. As watches grew in size by more than 30% over the next ten years, the Jubilee at its anniversary seemed hardly that large at all.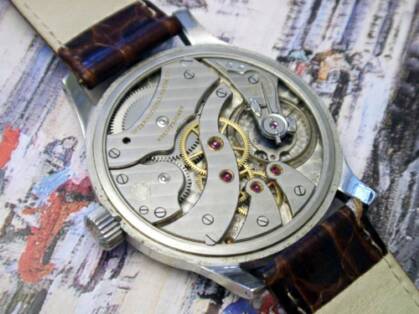 The single Jubilees came in a large wooden casket with a descriptive plaque and hardbound instruction booklet. Though not specifically included with the watch, there was at least one other large-format folio commemorating the 125th Anniversary. It covered not only the Jubilee, but the introduction of the IL Destriero Scafusia, as well as an interesting smattering of company anecdotes and history. The sets of Jubilees came packaged in special boxes containing one each of the three metals, some of which were split among several buyers, explaining in part why low numbered models still occasionally surface without boxes and papers.

Once this watch and its provenance became known to more and more collectors, accounts from numerous individuals surfaced about their mad and often humorous pursuits to track these down.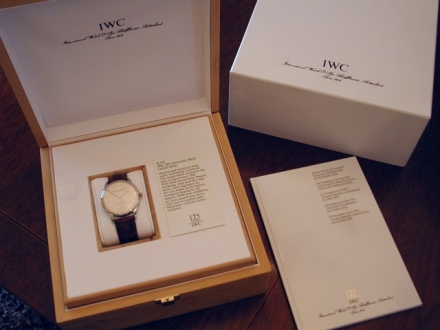 Essentially identical in most respects to the previous Portugueses, the Pisa differed from the Jubilee only in dial appearance, featuring breguet numerals and blued hands found on some of the earlier vintage models. The Pisa would have its own special movement engraving similar to the Jubilee and would remain a true Portuguese in all respects.

In a Joe Thompson interview conducted in 2002 with Nicolas Hayek of the Swatch Group, Hayek showed Thompson several new models, among them the Swatch XL.  Obviously proud of the XL's girth, Hayek exclaimed, "My son calls it the Portuguese".

Indeed. The Portuguese. The most powerful man in the world of Swiss watches has almost everything, but he still hasn't one single model analogous to this mystical and storied old watch from Schaffhausen.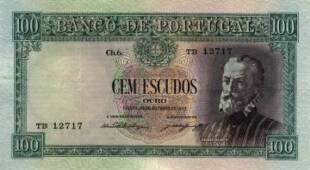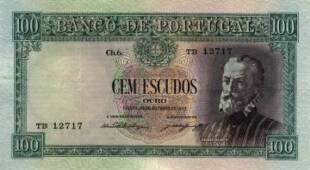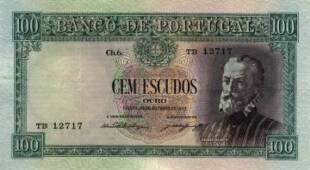 Terry Russell

Copyright 

2003 /05/06/09

p.1, 2, 8, & 10:  provided by and used with permission of Tornyai László

p.3: photo by Terry Russell

p.4a & b: provided by and used with permission of Franco di Giovine

p. 5: used with permission of Greg Steer

p.9:  provided by and used with permission of Michael Friedberg

p.12:  provided by and used with permission of Auktionen Dr. Crott

p.13: used with permission of Stefan Weeber

p.14: used with permission by an anonymous collector

all other watch photos by Terry Russell

all remaining photos used under "doctrine of fair use"

p.4a/b     The "Pisa" Portuguese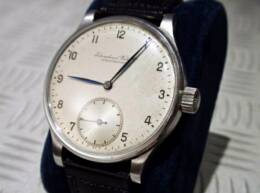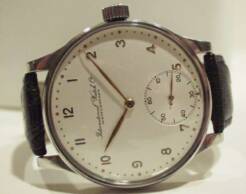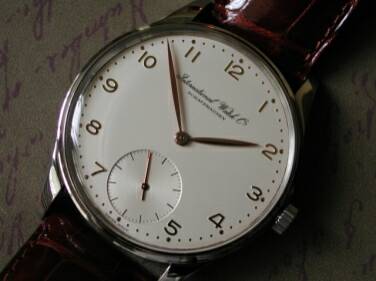 I would like to thank everyone credited with photos for their generous use with a special note for:

Tornyai László of Hungary -  an avid IWC collector who is fortunate enough to own four vintage Portugueses, all containing the Cal98.

Franco di Giovine -  who owns, among other fine IWCs, the beautiful Pisa Portuguese. Like the watch itself, good photos of it are rare.

The kind folks at Auktionen Dr. Crott for providing the photo of Jubilee Set No.1 .

I would also like to thank Michael Friedberg  for his photo contributions, review and invaluable edits at the original writing.

By 1946, 80% of all known Portugueses had been produced, making the period from 1944 through the end of that year the high point in sales volume. The last 20% would trickle out over the next 35 years.

May 2006:  5 additional Cal 98 Portugueses are discovered in the Archives, 2 from 1956 and 3 from 1957.

March 2009:  1 additional Cal 98 confirmed - sold to Rodrigues & Goncalves, Lisbon,  9 July 1951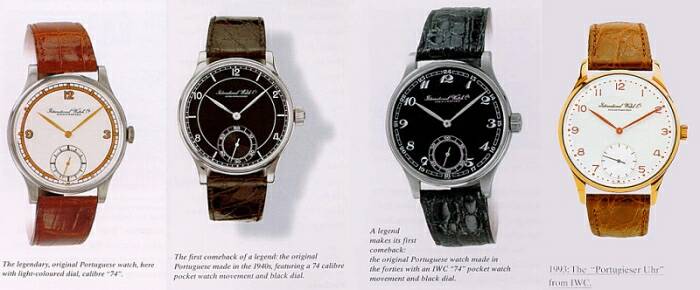 Dial variations were almost as numerous as the watches themselves - relatively speaking of course. The Portuguese was possibly IWC's only watch model ever that was dialed from whatever might have been available when orders were received.

p.5     Various Portuguese Dials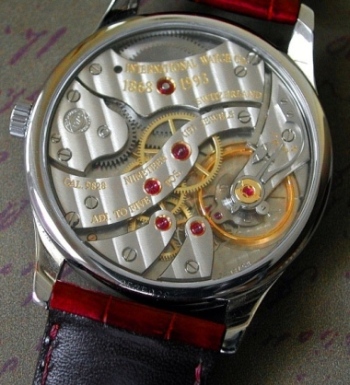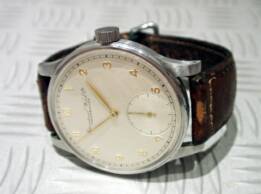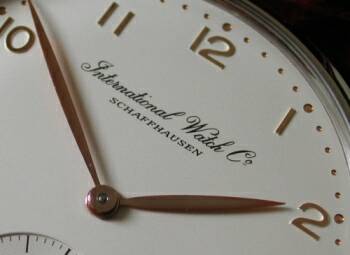 Several years after the Jubilee was introduced, IWC produced what might possibly be the last of the Portugueses from the original lineage. Itself a commemorative watch celebrating 50 years of business for the dealer Orologeria Pisa in Milan, Italy, the "Pisa" Portuguese was released in 1996.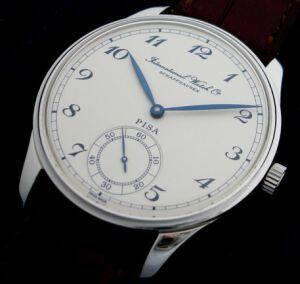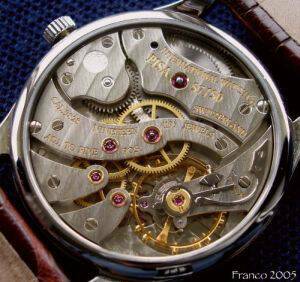 At an issue of only 50-pieces, the Pisa has become as hard to find as the early originals, though much easier to authenticate.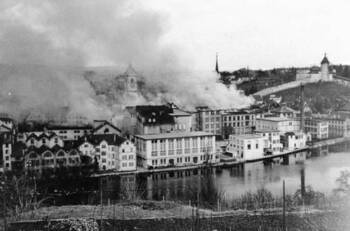 Fifteen years after the first Jubilees left Schaffhausen, set No. 1 made its way back home. Sold at auction on 17 May, 2008 by Auktionen Dr. Crott of Mannheim, this first set of triplets must have delighted those in Schaffhausen who were there for the birth, and fascinated those who weren't, if for no other reason than the handsome price such a piece of company history inspired. Tanja Warring, IWC's Museum curator, was kind enough to confirm the purchase, and Dr. Crott confirmed the hammer price.

As many of the sets were broken up by collectors sharing costs, it was nice to see that this set remained intact for its long journey home, where it was expected to be on display in the museum's permanent collection by the summer of 2009.

p.12     Jubilee Set No.1

sold 17 May, 2008 for 52.000 €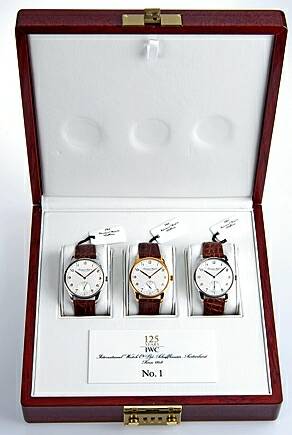 Time guides away all witness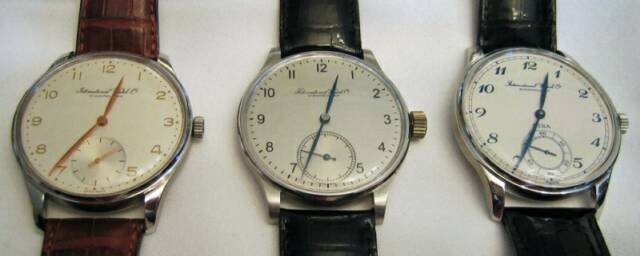 p.13    Jubilee - Vintage - Pisa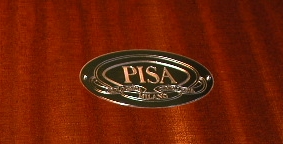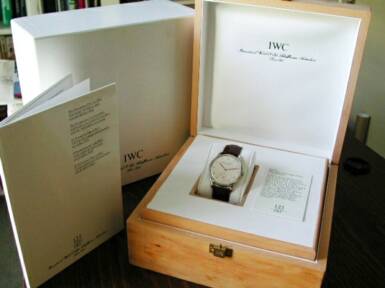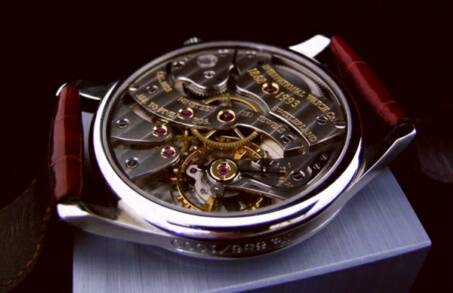 p.14    Ref 325  Cal 98 - 1951