The Watch That Never Grew Old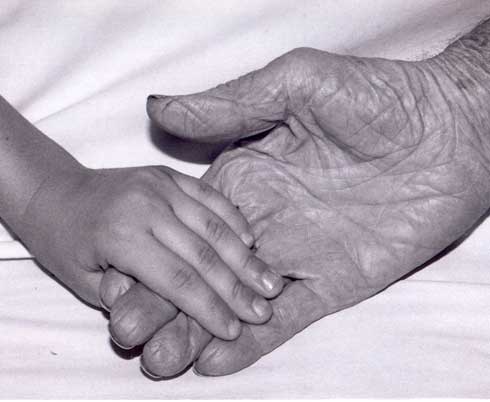 I have long been fascinated by vintage watches. It is a fascination for how they were made, who might have made them, how life might have been when they were new, how they survived, and with whom and where they might have been. As markers of the past, they also mark the formation of my interest in the art & craft of mechanical watchmaking.

Unfortunately, while vintage watches may keep good time, they rarely keep good history, and it is this very reason that I admire those watch companies today who can reach back into their own pasts and tell us when and where such watches started their journeys.

Recently I met a man charged with the responsibility of untangling the puzzle of another man's life. Assisting in the liquidation of an estate, he set about exchanging this man's property for money and met me along the way.

It was a transient encounter that bound us up together in the mystery of provenance - the "whenceabouts" of a dead man's worldly possessions - all unused, all unexplained, all frozen in time.

Left behind were Leica cameras in their original packaging, boxed toy cars marked "Western Germany", numerous Zippo lighters, Swiss army knives, men's toiletries, and beautifully embroidered handkerchiefs - all "new" and many priced in Reichsmarks. Also included were a pair of Levi blue jeans still tagged and unworn, many fine ladies items and a pair of golf shoes marked "U.S.Army". Oh yes, and watches. Lots of watches. All of them Swiss, unworn, and all with their original straps, buckles, boxes and papers. Fourteen altogether and save for their hardened oils, all as pristine as the day they were made - a 1940's time capsule preserved in the amber of another era.

It was evident from the man's papers that he had acquired most of these items while in Europe, and the assumption that he had served in the military there was eventually confirmed. As it were, our mystery man had left behind a trove of items that should have long ago been used up or passed along. Perhaps he had stolen these items, though thieves tend to liquidate their bounty. Perhaps they were intended as gifts, though it hardly seems likely that they could not have been delivered at all. Perhaps something bad befell the man and he simply lost track, or interest. Sifting through the remnants of this man's life in search of answers ultimately proved fruitless.

Among the watches were beautiful gold Vacherons, two gold JLCs - identical but for the color of their dials, two incredible Omega Chronometres with the 30-T2 Rg movement, gold Movados, a stainless steel Tavannes, and several ladies watches mostly by Omega. The watch that brought me into the picture was an 18k gold IWC, and the first piece to go up for sale.

In his auction description, the seller explained the story of the estate and admitted to knowing nothing about watches. In an e-mail inquiring about the IWC, I mentioned that I would be happy to help him sort out what he had. As it turned out, the first jeweler to whom he took the IWC offered him $200. Luckily, instinct told him to move on and he finally found an honest and skillful watchmaker who cleaned and lubricated these watches prior to their sale. My only role was to help with relative valuations and explain some of the finer points of what he had found. In the meantime, we developed an enjoyable, though brief association and he kept me apprised of his efforts to solve this absurd puzzle.

The International Watch Company in Schaffhausen, Switzerland has always had a special place in that part of my heart that allows me to love watches. I remember years ago reading an ad for the Da Vinci perpetual chronograph on a flight home from Chicago. The complexity of the watch, along with the photo of the little vial containing the century slide mesmerized me, and I was certain it was the finest, most expensive watch on Earth. Little did I know. When the watch-bug did bite years later, I was drawn back to IWC and was pleased to learn that they were indeed an important part of the Swiss watch industry, unique not only in approach, but in location and history as well. My first vintage watch ever was a beautiful Calibre 89, which I still enjoy owning, and it was eventually joined by numerous other examples from this period in their long and storied history.

I could tell from the case number on the certificate that it dated from around 1947. While that was the year IWC introduced the Calibre 88 (the sub-seconds version of the Cal 89), I assumed that this watch contained the older Calibre 83, made famous among collectors by its use in the Mark IX and X. It hardly mattered to me one way or the other. It was simply a stunning watch, desirable not only for its rarity of condition, but for its appearance as well. At 36mm, it was certainly wearable.

It was also one of the few such watches I had seen with applied indices, adding a depth to its appearance that is quite notable. With absolutely no doubts surrounding the originality of its various attributes, I was very pleased to have acquired it.

Soon upon receiving this watch, I ordered an extract from IWC's archives. This information is obtainable from the case and movement number of any IWC older than 10-years old. It contains a basic description, the case material and movement, the date of sale and to whom it was sold, all bound in a nice little hardback cover. In years past, IWC would simply look up and e-mail this information for free, but as the number of inquiries grew, they decided to charge a nominal fee to cover their costs. These extracts make a nice addition to any collection and add some value should the watch be sold.

When the extract arrived, I was pleased to learn that this watch contained what would be my first Calibre 88, but what really surprised me was the original recipient of this watch back on May 20, 1947: the U.S. Army.

It is well-documented that the British used watches from Schaffhausen during the war years to acquire millions of Russian rubles. Could the Army have used it and others like it for such a form of barter?  I wondered if it had been delivered to the Army in Europe or in the U.S.  I wondered how our mystery man had come to own it and of course I wondered why he never wore it. I wondered this, I wondered that, I wondered everything. There were no answers, only questions, and an even greater appreciation for this beautiful old watch that had never marked time on any man's wrist. For 55 years this watch lay buried in the tomb of its own box, taking on the reddish patina of time:  never delighting the eye, never daring to grow old.

Thus far I've disturbed it only enough to give it a monthly winding, not yet deciding if I should ever wear it. It would almost be a shame not to, but then again...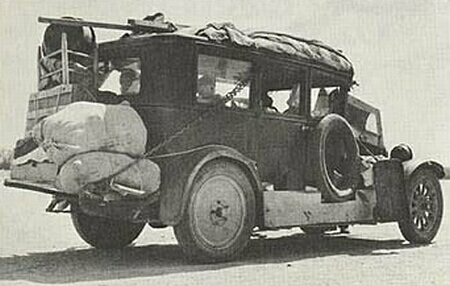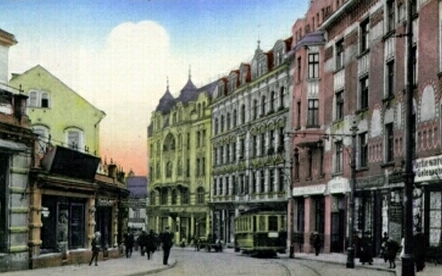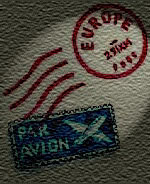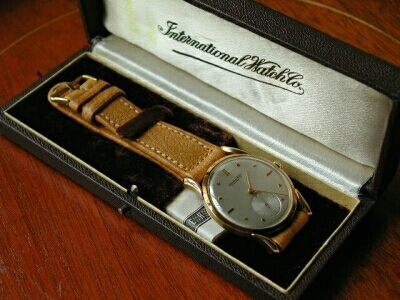 I ended up with the IWC only because I was the highest bidder, and while he did offer me any duplicates at the price they established at auction, I declined. In general, he did quite well, earning himself a respectable commission on each sale. The Levis, dated by the company as having been made between 1943 and 1947, sold for the princely sum of $4900. He had expected to get $25.

When I discovered this estate watch, I simply had to have it. Never worn, still on its original strap in its original box with certificate, it represented the culmination of my search for the perfect specimen of this particular genre of watch.  Simple, classic, and powered by wonderful movements of their own design and manufacture, these beautiful old IWCs serve as fine markers for the period in which they were made.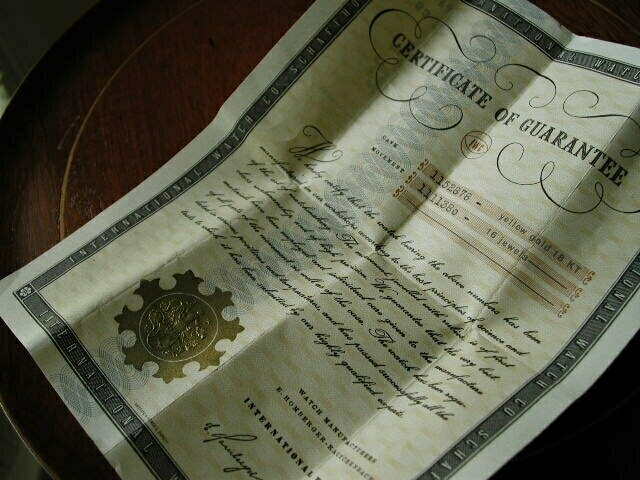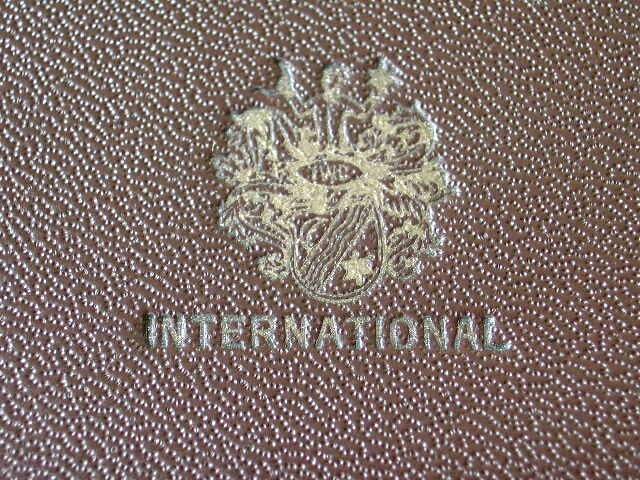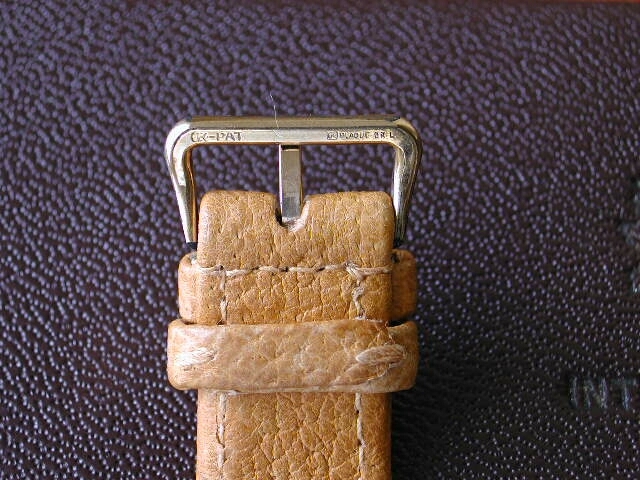 The Extract from the Archives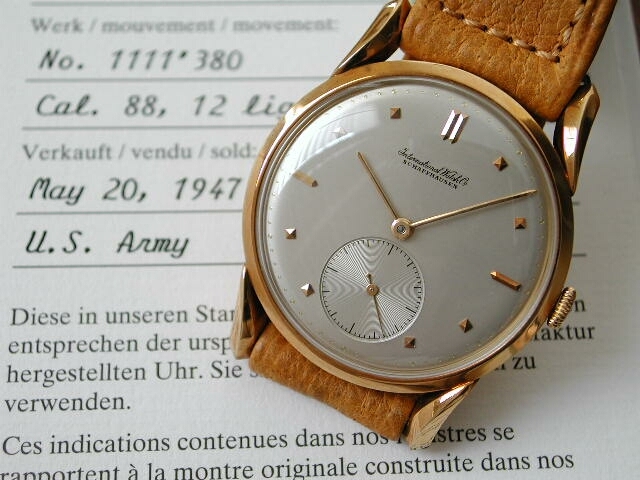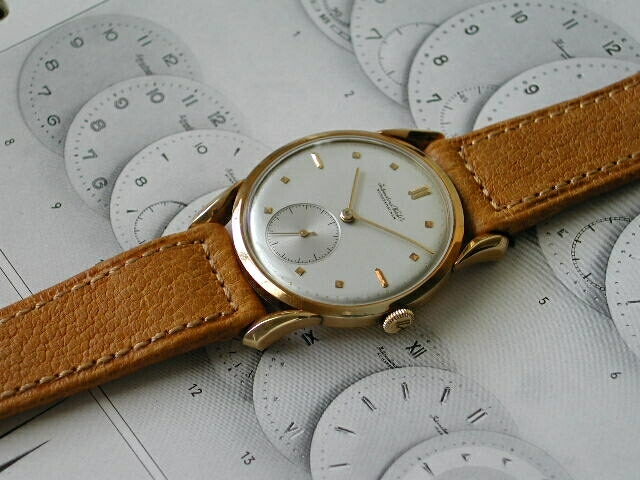 My thoughts immediately went back to those golf shoes. Why would the U.S. Army buy this watch? Was it intended as a service award for an officer, or perhaps simply stock for the post exchange?

Terry Russell

Copyright © 2002